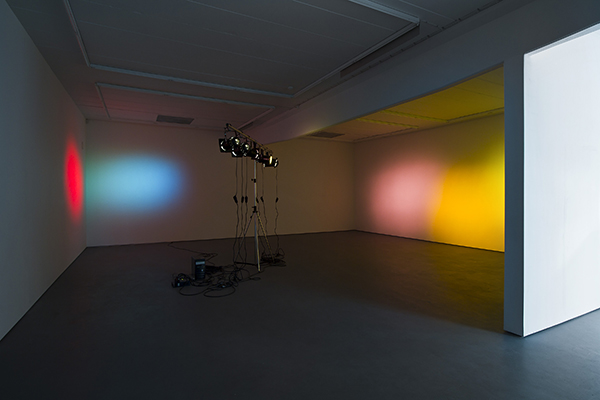 Calder Brown, 2011
Theatre lighting equipment and p.c.
4m x 3m x 2m
The piece centres upon a composition Calder Piece, 1966 by the renowned American composer Earle Brown (1926-2002). Brown, a contemporary of John Cage and Morton Feldman, was active within the association of experimental composers that became known as the New York School. Upon seeing the mobiles of the sculptor Alexander Calder Brown considered the structure and movement of the mobiles to be akin to concepts he was attempting to achieve within his music; whereby the music existed in formed cells free to move in relation to each other. Brown asked Calder to make a mobile for a composition in 1963 and three years later Calder delivered the bright red 'Chef D' Orchestre' for Brown's Calder Piece. The piece is performed by four percussionists, each with an array of instruments, arranged in a square formation with the mobile placed in the centre. The score calls for the musicians to react at times to the movement of the mobile and to 'play' on mobile itself as an instrument.
My curious interest in the piece came from seeing the Calder Brown interaction as a quite unique collaboration between a physical work of Fine Art and an ephemeral piece of avant-garde composition. I saw another notion or incident of transference that I could engage with – I reversed the physical transference taking place there – processing a recording of Calder Piece via a p.c. programmed to convert sound to a wash of tonal colour. A similar approach can be seen in returning Messiaen's Catalogue d'oiseaux to birdsong or replaying Satie's Véritable Préludes Flasques (pour un chien) specifically for dogs.
installation views Elastic Gallery, Malmö