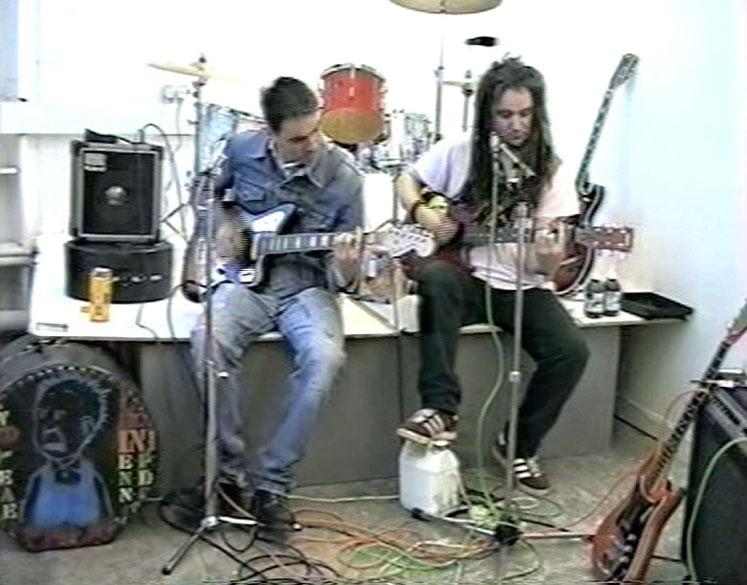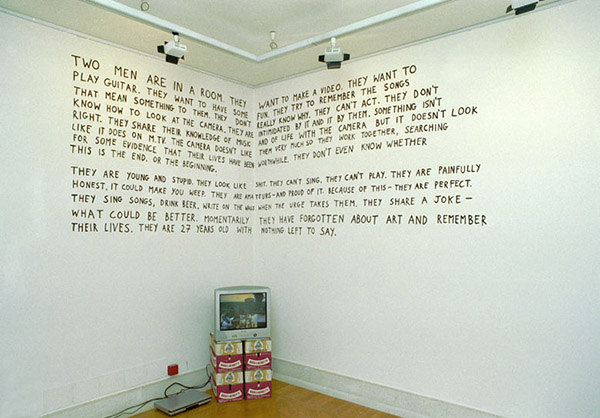 For Those About To Rock…, 1994
Video installation, 180 mins, colour with sound
with Ross Sinclair
TWO MEN ARE IN A ROOM. THEY WANT TO MAKE A VIDEO. THEY WANT TO PLAY GUITAR. THEY WANT TO HAVE SOME FUN. THEY TRY TO REMEMBER THE SONGS THAT MEAN SOMETHING TO THEM. THEY DON'T REALLY KNOW WHY. THEY CAN'T ACT. THEY DON'T KNOW HOW TO LOOK AT THE CAMERA. THEY ARE INTIMIDATED BY IT AND IT IS INTIMIDATED BY THEM. SOMETHING ISN'T RIGHT, THEY SHARE THEIR KNOWLEDGE OF MUSIC AND OF LIFE WITH THE CAMERA. BUT IT DOESN'T LOOK LIKE IT DOES ON MTV. THE CAMERA DOESN'T LIKE THEM VERY MUCH. SO THEY WORK TOGETHER, SEARCHING FOR SOME EVIDENCE THAT THEIR LIVES HAVE BEEN WORTHWHILE. THEY DON'T EVEN KNOW WHETHER THIS IS THE END. OR THE BEGINNING.
THEY ARE YOUNG AND STUPID. THEY CAN'T SING, THEY LOOK LIKE SHIT, THEY CAN'T PLAY. THEY ARE PAINFULLY HONEST. IT COULD MAKE YOU WEEP. THEY ARE AMATEURS – AND PROUD OF IT. BECAUSE OF THIS, THEY ARE PERFECT. THEY SING SONGS, DRINK BEER, WRITE ON THE WALL WHEN THE URGE TAKES THEM. THEY SHARE A JOKE – WHAT COULD BE BETTER? MOMENTARILY THEY HAVE FORGOTTEN ABOUT ART AND REMEMBER THEIR LIVES. THEY ARE 27 YEARS OLD WITH NOTHING LEFT TO SAY.
The video film, which lasts approximately 3 hrs, follows the spontaneous, unscripted movements of the two artists in a room with a stage full of guitars, drums, amplifiers and microphones. Bouncing each others' knowledge of pop music off each other we play whatever comes into our heads, teach each other songs, drink beer, share the occasional joke and painting appropriated texts on the walls of the make-shift set.