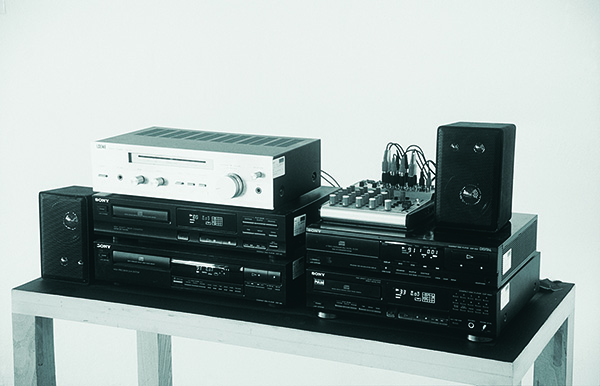 R.P.F. (For Recorded Instrument), 2002
CD recordings, four CD players, mixer, amplifier and speakers.
ALL 12 SEMI-TONES OVER OCTAVE c TO b PLAYED AS WHOLE NOTE, HALF NOTE, QUARTER NOTE, EIGHTH NOTE PLUS RESPECTIVE RESTS. EACH NOTE IS FOLLOWED BY A REST OF SIMILAR DURATION. EACH NOTE/REST MAY BE PLAYED ANYTIME WITHIN A 4 SEC. PERIOD. 96 NOTES/RESTS TO BE CONFIGURED RANDOMLY, WITH NO REPETITION. FOUR RANDOM SCORES TO BE PLAYED SIMULTANEOUSLY.
The text above is the score for a piece of music to be played through four CD players all running simultaneously on Random Play Function. Each CD contains 96 individual tracks, single tones played on a piano. The 12 tones of the octave times its four durational variables equals 48. Plus a silence track for each tone gives 96 total.
The piece is a serialist work influenced by the compositional writings of Schoenberg, Cage and the, lesser known, American composer Tom Johnson. The work cites Schoenberg's 12-tone method of composition, Cage's reference to the use and importance of silence within his music and his use of indeterminacy and Johnson's use of mathematical formulae and logic devices as a compositional aid. It takes approx. 9 1/2 minutes to play through one possible set of four random sequences, sequences configured by the CD players.